Hands-on: Apple's iPhone 15 Finally Feels Like an Upgrade
Unlike last year's iPhone 14 release, this year's iPhone 15 event felt less iterative and more like an upgrade than in recent years. Meet the iPhone 15 and iPhone 15 Pro, Apple's 15th-generation smartphones. If you need to update your iPhone from an older model, now is the time to consider the kind of trade-in value you can get toward a new device.
How To Prep Your iPhone or iPad Before Selling
Apple's bread-and-butter phones, the iPhone 15 and 15 Plus, are more fun than their predecessors. Not only have they been redesigned with pearly, pastel colors and textured aluminum, but they bring over some of the best features of last year's iPhone 14 Pro, including the Dynamic Island and telephoto capabilities.
But which version of the new iPhone 15 is the most fun? I went hands-on with the iPhone 15/15 Plus and iPhone 15 Pro/Pro Max at Apple Park on Tuesday. I'm excited to try out the iPhone 15 Pro Max's improved camera system, especially that 5x optical zoom, to compare it to Android smartphones with the same capabilities. But until we get the phones in for review, we can show you a close-up look at the new titanium shell on the iPhone 15 Pro/Pro Max, plus what it's like having an Action Button.
iPhone 15 Pro Max: The best you can get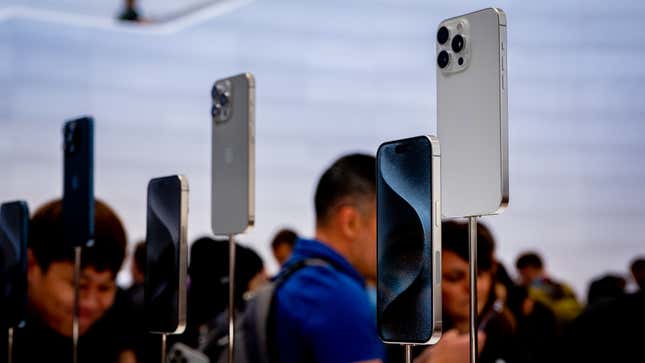 The biggest change coming to the iPhone 15 Pro/Pro Max is the Action Button. As with the first- and second-gen Apple Watch Ultra, the Action Button is programmable to perform a range of functions, though only one at a time. You can set it up from within Settings to turn on a flashlight, fire off a Siri shortcut, or bring up Accessibility features. By default, the Action Button works like the legacy mute switch, which you can still find on the iPhone 15/15 Plus.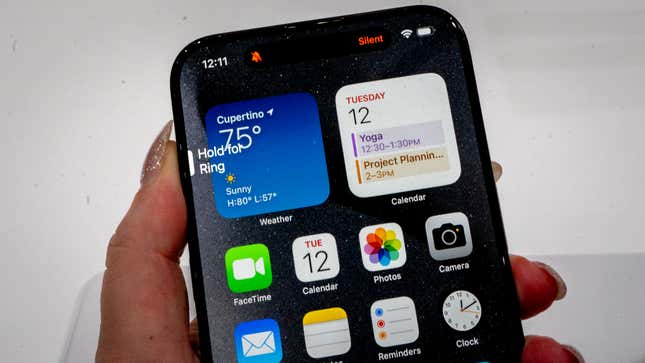 The iPhone 15 Pro and 15 Pro Max feature a new "aerospace-grade" titanium chassis with contoured edges. Apple said the titanium makes the smartphone much lighter than its Pro predecessors. I immediately felt the difference after holding an iPhone 15 Pro Max in one hand and our iPhone 14 Pro Max review unit in the other. Here's to hoping that means less wrist fatigue with the Pro models than in past years—popping on a case and a MagSafe accessory adds to the bulk of an already dense device. The 15 Pro is still the lighter experience—it's 187 grams compared to last year's 206 grams. The 15 Pro Max will still be a weighty carry. It's 221 grams compared to the previous year's 240 grams.
Inside, the iPhone 15 Pro/Pro Max runs on Apple's first 3nm chip, the A17 Pro. Apple says the new CPU is up to 10% faster than its predecessor, with its GPU capabilities up to 20% snappier than what was possible with the iPhone 14 Pro. Apple has also enabled smoother gameplay through software-based ray tracing. I'll be curious to benchmark games on the new iPhone 15 Pro and compare them with their Android equivalents.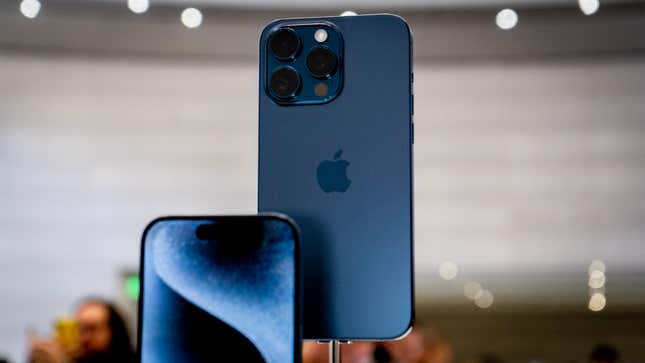 To me, the camera system is the most exciting part of the iPhone 15 Pro/Pro Max. Although both devices have three camera lenses, including the new 48-MP primary camera with 24-MP super-high-resolution capabilities, the iPhone 15 Pro Max is the only phone capable of up to 5x optical zoom. Apple says this capability is facilitated by its new "tetraprism" stabilization system, which features a combined optical image stabilization and autofocus 3D sensor-shift module. I'm curious how this performs on far-away shots compared to the Samsung Galaxy S23 Ultra, which has a similar stabilization system.
The iPhone 15 is a cutie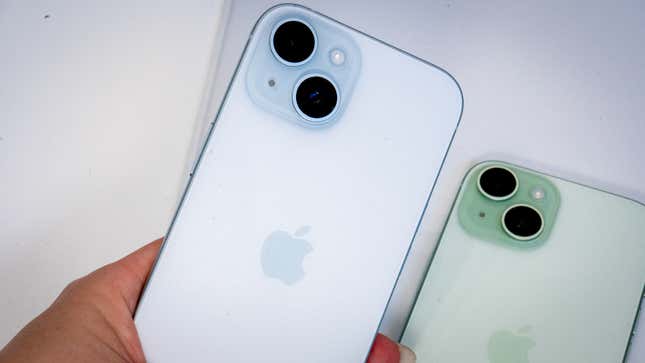 Sure, the iPhone 15 Pro/Pro Max has all the high-end performance features and the brand-new A17 Pro mobile processor. But none of the Pros come in cute pastel colors like the iPhone 15 and iPhone 15 Plus. There are two sizes of iPhone 15—6.1 inches for the regular and 6.7 inches for the Plus—and various colors, including pink, yellow, blue, and black. I'm especially attracted to the new green one—it's precious in person. Apple infused the color throughout the ceramic chassis. The matte finish gives the phone the texture of tumbled sea glass.
The Dynamic Island also makes a cameo on the base model iPhone 15, which will use all those apps and services that have been functioning in that top part of the screen for the last year. But even more helpful will be the increased brightness of the iPhone 15, which now goes up to 1600 nits manually and 2000 nits in direct sunlight. Samsung's AMOLED is no longer the brightest smartphone display in all the land.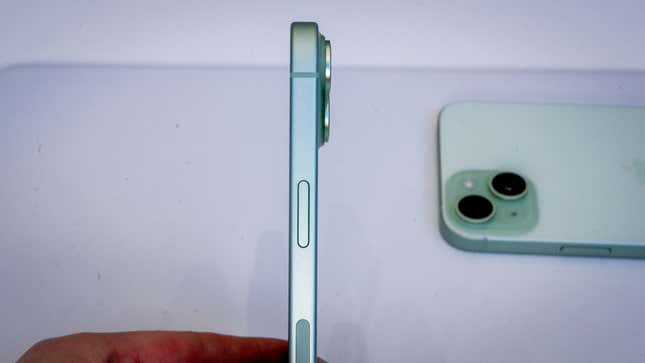 Of course, the insides have also improved. The A16 Bionic chip has been brought over from last year's Pro models, with tweaks so it uses 20% less power than its predecessors. There's also a two-camera system with a 48-MP primary camera. Apple has extended that 24-MP super-high-resolution capability to this lineup, along with a 2x Telephoto option that's less far-reaching than the iPhone 15 Pro's but will be nice to have on hand.
About that USB-C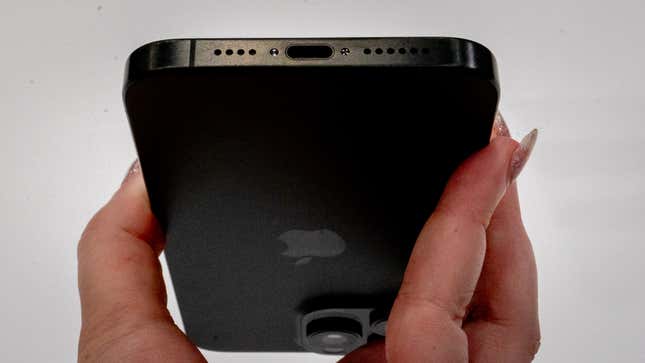 The new iPhone 15, iPhone 15 Plus, iPhone 15 Pro, and iPhone 15 Pro Max now all use USB-C cables to charge and transfer data. If you plan to upgrade to the iPhone 15 once it's on sale on Sept. 22, you must reconsider what's in your cable drawer. Lightning cables will work no more. Apple is planning to sell Lighting-to-USB-C dongles. But wait to go out buying USB-C cables, especially if you're purchasing the Pro variant of the iPhone. The iPhone 15 Pro, in particular, will be compatible with USB 3 for data transfer speeds, meaning you might want a proprietary Apple cable to get the fastest juice possible.
There's more coming soon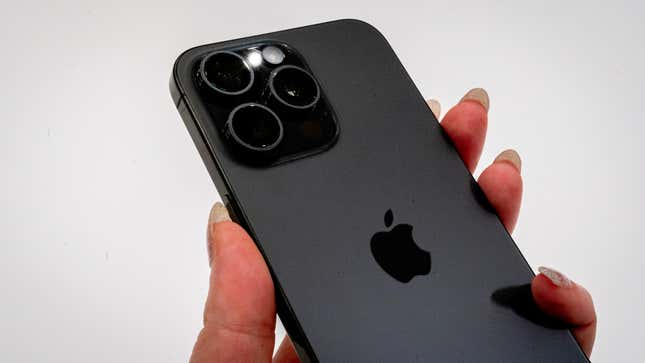 The iPhone 15 and 15 Pro introduce a few other features for the iOS device lineup. Emergency SOS via satellite has been expanded to include Roadside Assistance, though it's only in the U.S. and select regions at launch. Both iPhone 15 models also include the second-gen Ultra Wideband chip, enabling wireless connections up to three times farther than before. It should also help with Precision Finding in the Find My app.
The new iPhone 15 Pro will be on sale Sept. 22, starting at $1000. Depending on how much you want to pay, it'll come with 28GB, 256GB, 512GB, and 1TB of storage. The iPhone 15 Pro Max will start at $1,200 and is available with 256GB, 512GB, and 1TB of storage.
The regular iPhone 15 and 15 Plus will be sold the same day. The standard iPhone 15 starts at $800 and is available with 128GB, 256GB, and 512GB of storage. The iPhone 15 Plus will start at $900.