Minnesota, the 'Land of 10,000 Lakes,' is spellbound with natural beauty and the best of travel
Minnesota, the "Land of 10,000 Lakes," offers a diverse tapestry of natural beauty, cultural riches and outdoor adventures.
From the vibrant urban scene of the Twin Cities to the pristine wilderness of the Boundary Waters, Minnesota has something for everyone.
Fox News Digital has rounded up information to embark on a comprehensive journey through the must-do and must-see attractions that make Minnesota a captivating and unique destination.
MINNESOTA FISHERMAN'S NORTHERN PIKE TIES WITH STATE'S 2-YEAR CATCH-AND-RELEASE RECORD: 'VERY LARGE FISH'
Boundary Waters Canoe Area Wilderness
Minneapolis Institute of Arts
Lake Superior's North Shore
Mall of America
Voyageurs National Park
North Shore Drive
Split Rock Lighthouse
Minneapolis Sculpture Garden
Mississippi River's Headwaters
Ely
Minnehaha Falls
International Wolf Center
Paul Bunyan and Babe the Blue Ox Statue
Lake Minnetonka
Afton State Park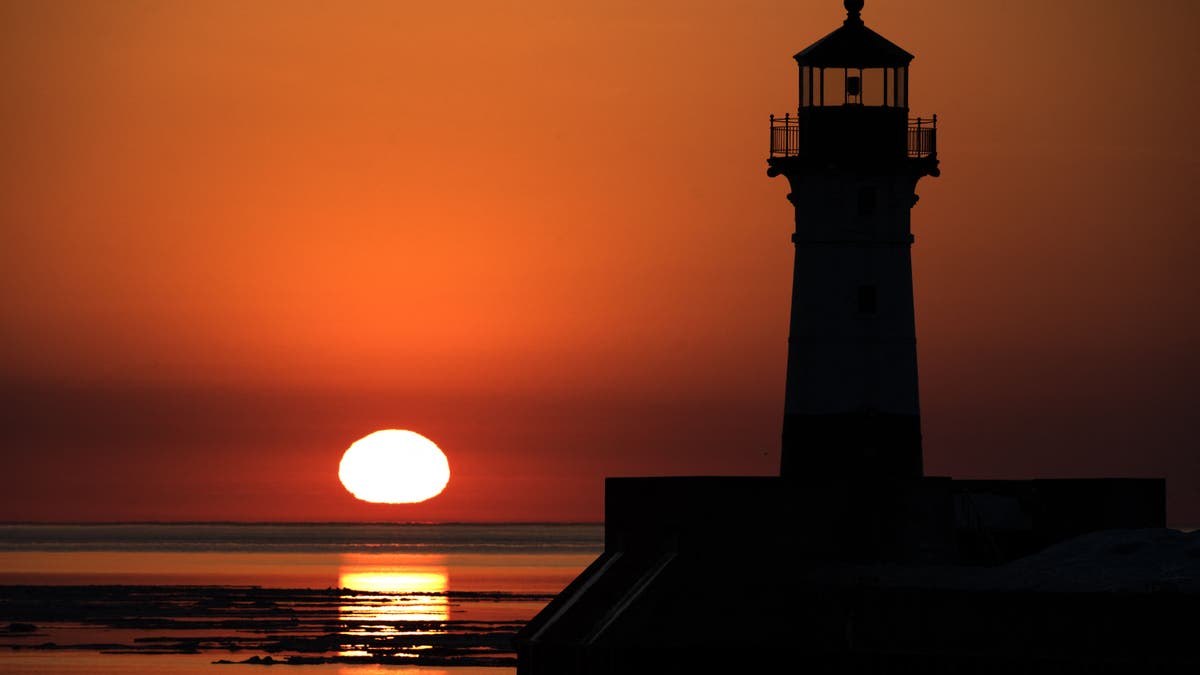 Sunrise over Duluth, Minnesota, with the North Pier Lighthouse on Lake Superior. (Stephen Maturen/AFP via Getty Images)
1. Boundary Waters Canoe Area Wilderness
Spanning more than a million acres of unspoiled wilderness, the Boundary Waters Canoe Area Wilderness beckons to outdoor enthusiasts as a sanctuary of natural beauty and adventure.
Renowned for its intricate network of interconnected waterways, this protected haven offers visitors the chance to embark on exhilarating canoeing and camping expeditions, immersing themselves in the heart of pristine, untamed nature.
2. Minneapolis Institute of Arts
The Minneapolis Institute of Arts, known as MIA, proudly houses an expansive collection of art sourced from every corner of the globe.
MINNESOTA ACTION PARK LETS YOU DRIVE A TANK
With an array of over 89,000 artistic treasures, it unfurls a rich tapestry of human creativity, spanning the ages from ancient civilizations to contemporary masterpieces, establishing itself as a cultural treasure trove.
3. Lake Superior's North Shore
Lake Superior's North Shore unfolds a breathtaking landscape, gracing visitors with majestic vistas, cascading waterfalls and enchanting hiking trails that embrace the shores of the world's largest freshwater lake.
Amid this natural wonder, don't overlook the Split Rock Lighthouse, a historic and picturesque landmark that punctuates the coastline.
4. Mall of America
Situated in Bloomington, the Mall of America stands as a mecca for shopping and entertainment.
Boasting a multitude of hundreds of stores, an indoor amusement park, an enchanting aquarium and a miniature golf course, it emerges as a destination for both retail therapy and family fun.
5. Voyageurs National Park
Voyageurs National Park emerges as a watery wonderland in the heart of northern Minnesota.
Renowned for its intricate web of interconnected lakes, this remote park beckons visitors to indulge in a plethora of water-based activities, from boating and fishing to stargazing.
It stands as one of the few sanctuaries where the night skies remain untainted by the glow of city lights.
6. North Shore Drive
Embark on a scenic journey by driving along the North Shore Scenic Drive, an enchanting route tracing Lake Superior's coastline.
Along the way, explore charming small towns, savor delectable local cuisine and be captivated by some of the most awe-inspiring sunsets that grace the expansive lake.
7. Split Rock Lighthouse
Resting gracefully upon a cliff that commands views of Lake Superior, the Split Rock Lighthouse is a historic sentinel, offering not only breathtaking panoramas but a window into its intriguing history.
MINNESOTA WILDLIFE OFFICIALS SHOOT MULE DEER EXHIBITING 'STRANGE BEHAVIOR'
Visitors are invited to explore the lighthouse and its compelling narrative, all while savoring the sweeping, panoramic vistas of the vast lake beyond.
8. Minneapolis Sculpture Garden
Adjacent to the Walker Art Center, the Minneapolis Sculpture Garden is home to the "Spoonbridge and Cherry" sculpture.
Stroll through this open-air gallery, which features a collection of contemporary art installations.
9. Mississippi River's headwaters
Witness the humble beginnings of the mighty Mississippi River at Itasca State Park.
AMERICA THE BEAUTIFUL: 50 MUST-SEE LANDMARKS THAT TELL OUR NATIONAL STORY
Walk across the river as it starts its meandering journey to the Gulf of Mexico and explore the park's pristine forests and lakes.
10. Ely
Ely is the gateway to the Boundary Waters and an inviting small town to explore.
Enjoy the quaint shops, charming restaurants, and a warm community atmosphere.
11. Minnehaha Falls
Nestled within the bustling city of Minneapolis, Minnehaha Falls provides a tranquil urban sanctuary.
Here, a cascading waterfall, verdant parkland and meandering trails blend to create a serene haven at the heart of the city, inviting visitors to escape the urban hustle and find reprieve in nature.
12. International Wolf Center
The International Wolf Center is an immersive facility where visitors can delve into the world of wolves in a natural setting. This educational experience offers nature enthusiasts the opportunity to learn about and observe these magnificent creatures in an environment that reflects their natural habitat.
13. Paul Bunyan and Babe the Blue Ox Statue
Celebrate the legacy of Minnesota's famous lumberjack, Paul Bunyan, and his faithful companion, Babe the Blue Ox, with a visit to the statue in Bemidji.
CLICK HERE TO SIGN UP FOR OUR LIFESTYLE NEWSLETTER
This whimsical attraction offers a lighthearted and quirky photo opportunity that captures the spirit of folklore and fun.
14. Lake Minnetonka
Lake Minnetonka, located in the Twin Cities metropolitan area, offers a vast expanse of water for boating, swimming and lakeside relaxation.
The surrounding communities feature charming downtown areas and lakeside dining.
15. Afton State Park
Afton State Park stands as a haven for hikers, birdwatchers and those seeking a serene spot for a picnic. Immerse yourself in the scenic river bluffs and the serene embrace of the forested surroundings, making it an ideal destination for nature lovers to bask in the outdoors.
CLICK HERE TO GET THE FOX NEWS APP
Minnesota, the "Land of 10,000 Lakes," is a land of endless exploration and captivating experiences. From the tranquil beauty of its natural landscapes to its vibrant cultural scene, this state has something to offer every type of traveler.
Whether you're drawn to outdoor adventures, cultural excursions or simply savoring the serene ambiance of its lakes and forests, Minnesota promises a unique and memorable journey.
For more Lifestyle articles, visit www.foxnews.com/lifestyle.