Mortal Kombat 1's New Universe Is Worth Fighting For
Even before it turned 30, NetherRealm's Mortal Kombat franchise had one eye on its past. After 2011's reboot retold the original three games, Mortal Kombat 11 used time travel to have older characters interact with their younger selves, while those who died in the reboot or Mortal Kombat X were brought back in the hopes they'd be able to reverse their fortunes. The new Mortal Kombat 1 is a reboot for the entire universe, but the way it uses that history to inform its takes on these fighters makes for a story mode that feels well worth the price of admission.
Star Wars Brotherhood Excerpt: Dexter Jettster Returns
As Mortal Kombat 1 starts, Liu Kang has already sketched out the universe before giving up his power so he can protect Earthrealm as a regular demigod. Part of the fun in these early chapters is seeing how well-suited he is to this new role: he's as kindhearted and charming as he was when he was human, and you get the sense that he's excited to finally meet these iterations of his friends. It's a fun dynamic to watch him gently guide characters like a now-mortal Raiden and Johnny Cage into becoming their best selves while also being content to let things happen of their own volition. Some of his lines and actions reference events from prior games—he assures Raiden that the fighting tournament won't end with anyone getting killed, for example—but you can see that he's mastered the art of seeing how things will play out naturally.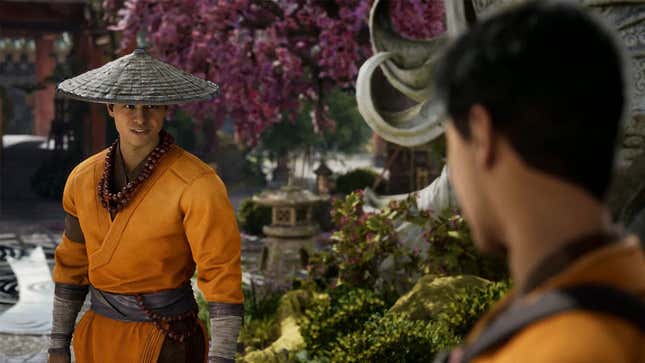 With Raiden crowned winner of the tournament and Earthrealm's champion, Mortal Kombat 1 shifts gears to focus on the return of Shang Tsung, who Liu Kang erased from existence in the Aftermath DLC of Mortal Kombat 11. He later remade villains like Shao and Shang Tsung to be not quite as evil as their original incarnations—in the case of the latter, he was made a snake oil salesman whose tricks eventually caught up with him. Hearing that Shang Tsung's suddenly reemerged with his old sorcery powers and love of experimenting on others obviously raises concern for Liu Kang, who calls on his allies to track the sorcerer down. This eventually leads to him and his group cornering Shang Tsung to get answers, which is where the game reveals its pretty clever twist. After introducing his benefactor Damashi (who looks a lot like Mortal Kombat 11's main villain Kronika), she turns out to actually be another Shang Tsung.
Specifically, this is the Shang Tsung of Aftermath's second ending, wherein he killed Liu Kang to become the architect of time. This Shang Tsung explains that during their climactic battle, multiple timelines were created where a different character became a Titan (beings that predate regular gods like Raiden or Fujin) after they beat their versions of Kronika and used their new power to control time. In other words, all of Mortal Kombat 11's Klassic Tower endings for its individual fighters—a staple of the series; in the last game, it saw characters like Jax rewriting history to prevent slavery from happening—have now gone from being non-canon to completely canon. And always looking to start trouble, Titan Shang Tsung empowered his counterpart and the Quan Chi of this timeline to ruin things badly enough that he could eventually absorb it into his own.
Given how the multiverse has become so hot in recent years, it would've been easy for this game to just be another addition to the pile. These stories often go for an "all universes are equal" message as a way of telling fans that the universe doesn't matter as much as our love for the characters. It's an idea that doesn't always work; too often these stories just become sightseeing tours, and many of these alternate universes don't have anything going for them beyond a specific, (usually) brief gimmick. But while Mortal Kombat 1 confirms the endings of its predecessors are all canon, it doesn't try to oversell their importance. In lieu of providing a glimpse into these other timelines, the game relies on characterization and the designs of alternate versions as a reliable shorthand. When Titan Kitana and Liu Kang meet and share a kiss, you can intuit that things are going well in her reality; similarly, looking at evil versions of Raiden and Sindel tells you enough about how bad things are for surviving characters over in Titan Shang Tsung's domain.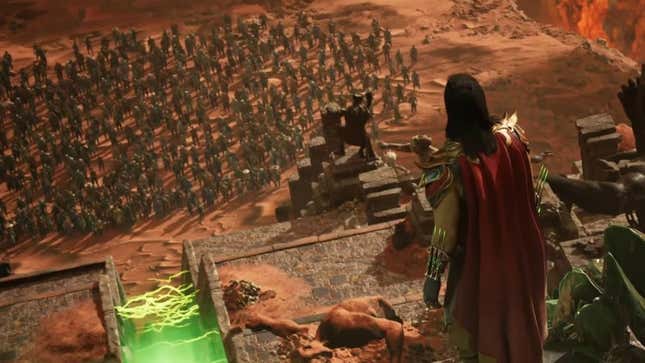 With its multiverse trick now revealed, Mortal Kombat 1 admirably goes for broke with its final chapter, "Armageddon." Liu Kang's group gathers heroic versions of Titan characters—including Shang Tsung and Quan Chi—to face down Titan Shang Tsung and his own army of evil Titan doppelgangers. At this point, the game basically becomes Secret Wars, but for Mortal Kombat: the player can choose anyone from the base roster to lead the charge against the evil Titans. Some characters will be their default versions from the story, others (like Sub-Zero or Kang himself) will be subbed in with a good Titan variant; either way, they have to fight a variety of evil Titans (who are fusions of characters like Reiko and Johnny, or Raiden and Tanya) while ascending the pyramid to fight Titan Shang and Quan.
While it's a bit of a rushed conclusion, fighting the game's many variants is a lot of fun, and there's some good dark humor in watching them kill each other as the main character tries to stay alive. Once the day is saved and each Titan is sent back to their respective timeline, things slow down to establish that the surviving characters of Liu Kang's timeline have stepped into new roles that'll set up surely inevitable sequels: Scorpion and Smoke have formed the Shirai Ryu to fight Sub-Zero's Lin Kuei, Mileena is now Outworld's empress after Sindel's death, and so on. In the story's final moments, Liu Kang thanks the Earthrealm crew, and Johnny in turn says the demigod has indeed changed their lives for the better. With how sincere it is and with no real immediate threats on the table, there's an undercurrent of finality in this exchange that would make you think Mortal Kombat 1 was capping off the series, even if it's just for a few years.
That isn't the case, obviously, as the mid-credits scene shows an evil Titan variant of Havik is determined to start a new, much longer war of the timelines. Still, Mortal Kombat 1 manages to succeed at showing why Liu Kang's new timeline is worth investing in, and that the series has managed to deliver on its klassic ridiculousness while still taking its ever-eclectic cast in new directions.
---
Want more io9 news? Check out when to expect the latest Marvel, Star Wars, and Star Trek releases, what's next for the DC Universe on film and TV, and everything you need to know about the future of Doctor Who.