Philips Hue Announces New Full Home Security Suite
Philips Hue, the brand mostly known for its smart home lighting tech, is casting a big, blinding spotlight on its new new security tech suite. Despite the shift to smart home cameras and sensors, the company is saying it's still focused on lighting tech, though its now-Matter-enabled brand of bulbs and strips are there to cast a spotlight on would-be intruders, or potentially your neighbor's wayward cat.
Watch a Clip from Jennifer Reeder's Feminist Horror Noir Perpetrator
The new Secure line includes a whole range of interconnected cameras and door/window sensors. These sensors do everything you expect from a smart home security apparatus, but Signify—the makers of Philips Hue—said it would offer end-to-end encryption by default, and that any users' video clips, snapshots, or live video would be kept private. Each camera uses AI to determine if a figure spotted on camera is a person, a pet, or a package delivery, but the folks behind Philips Hue said that all runs on the camera itself instead of the cloud. In a Q&A, Philips Hue execs added their system also wouldn't transfer any user keys via the cloud either.
The big ticket items are the Secure cameras, including a $200 wired version, a $250 battery version, and a $350 version with attached floodlight. Signify said its new cameras provide 1080p HD video feeds with night vision. They support both light and sound alarms, as well as two-way talk capabilities. Each camera includes a desktop stand and a outdoor charging cable and anti-drop cable, but for sticking a camera in the ground the company is selling a camera mount with attached ground spike separately for $40.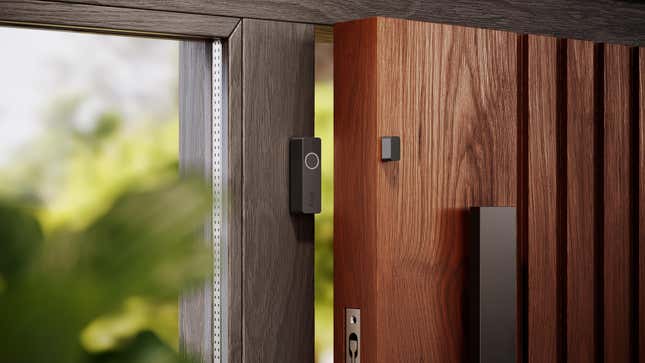 The Secure contact sensor uses a simple magnetic switch to notify a user when a door or window is opened. The main body can be stuck to any door or window frame with adhesive or through a good old screw mount. The sensor can detect when the smaller magnet leaves its vicinity on either the top or sides of the device.
Alongside the new security devices, Signify said it's releasing several more smart lighting products. The company is creating a new Perifo track lighting setup and Hue Centris indoor colored spotlight. In addition, there's a new 12V smart bulb and a new generation of the Philips Hue Festavia string lights. All current and previous string lights should come with new light effects titled "Prism," "Glisten," and "Opal."
This new security apparatus is being added as a "Security Center" inside the existing Philips Hue app. The app allows users to view cameras in real time, trigger lights or alarms, and it provides notifications of happenings when something is caught on camera, or when one of the new magnetic contact sensors are tripped on a door or window. Those who subscribe to the Secure Basic plan get 30 days of video storage for $4 per camera per month, or 60 days of storage with the Secure Plus plan at $10 per camera per month.
Users can also create so-called "blackout zones" on the camera's feed, which will make is so other camera users can't see what's going on. Other physical areas can be designated "activity zones" which will restrict the cameras from sending users notifications if they detect something going on.
Encryption seems to be a major sticking point for Signify. Major security camera brand Eufy, which is owned by Anker, admitted in February that its cameras were sending unencrypted streams of security footage via the company's own web portal, even when cloud storage wasn't enabled. Much worse was Amazon's Ring, which has had to deal with a mountain of controversy regarding it sending users' footage to police without approval, and for letting its own employees watch customers through their camera setups.
The launch of its new lighting tech also comes with an upgrade that will make the lighting products compatible with the smart home utility standard Matter. This interoperability is being enabled through a software update to Philips Hue Bridge which should launch sometime in September. The camera system won't be enabled with Matter, as currently the standard does not support camera devices. Cameras have been cited on Matter's roadmap, but there's no word yet when that might be incoming.