Richard Sharp resigns as BBC chairman over Boris Johnson loan
Sharp says he is stepping down to avoid becoming "a distraction from the Corporation's good work"
By Web Desk
April 28, 2023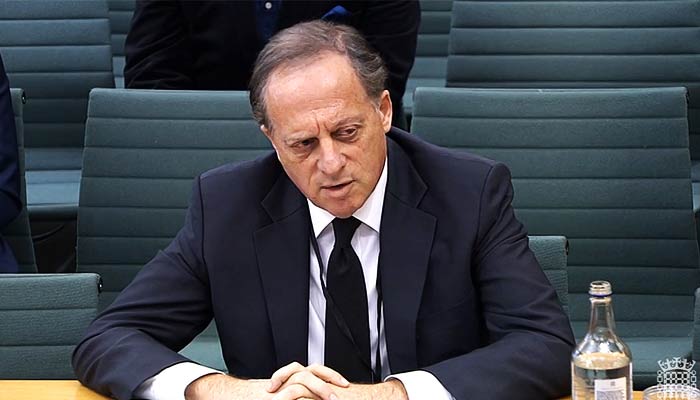 BBC chairman Richard Sharp on Friday announced that he was resigning from his position following mounting pressure from people over his involvement in a loan for then-UK prime minister Boris Johnson, which raised questions about the chairman's much-extolled impartiality.
Sharp was appointed as the chairman of the publicly funded BBC in February 2021; however, the appointment was denounced by opposition parties under allegations that the Conservative government in Britain has often been accused of trying to muzzle the broadcasting service.
Earlier this year, allegations emerged of Sharp's facilitation for Johnson in a loan guarantee, according to BBC.
According to AFP, Sharp acted as a go-between to facilitate the £800,000 ($1 million) loan for Johnson.
Denying any wrongdoing, Sharp said he was stepping down to avoid becoming "a distraction from the Corporation's good work".
Sharp said that the report found he had breached the government's code for public appointments but also highlighted "it was inadvertent".
It is pertinent to mention here that Sharp's close past ties to the Conservatives have already been a distracting controversy for both the broadcaster and the British government.
Those ties were also called into question last month when the BBC suspended former England star Gary Lineker from its flagship football highlights show.
Following his suspension, Lineker, took to Twitter to accuse Rishi Sunak's — Boris's successor — government of using "Nazi-era rhetoric" in promoting its hardline immigration policies.
It was only after other presenters refused to work — throwing the BBC's sports schedule across TV and radio into chaos — that Lineker was reinstated by the Sharp-led board.
Culture Secretary Lucy Frazer thanked Sharp for his service, as the government began the delicate hunt for a successor to one of Britain's highest-profile roles when he leaves at the end of June.
Speaking on the matter Lineker argued that the government of the day should not get to choose the BBC chair. "Not now, not ever," he tweeted.
But Sunak refused to rule out another political appointee, telling reporters that he would not "prejudge" the recruitment process.
---
— With additional input from AFP