Sleep No More Lives Up to Its Legacy in Immersive Theater
Manhattan's McKittrick hotel looms nondescriptly while housing an entire world of mystery and intrigue inspired by Shakespeare's Scottish Play. During Halloween season io9 was invited to its current run.
Meet Microsoft's New Surface Laptops
Having experienced immersive theater on the West Coast for the better part of 10 years, I'd often heard about the show that many say started it all. Sleep No More is talked about in lounges and waiting areas of other haunting immersive productions like Jon Braver's Delusion interactive plays. I was told, "Oh you'll love Sleep No More" and "You have to make it out to Sleep No More." In its current iteration since 2011, the performance marked the first immersive experience for many audiences in the time before other immersive plays sprang up around the country. Its debut came long before Walt Disney World's ill-fated Star Wars: Galactic Starcruiser would attempt the monumental feat of having you live in a big space opera themed after Lucasfilm's franchise for 48 hours (and a pretty penny).
Finally, during a recent rainy weekend in New York City, I was able to check this OG production off my list. When you enter you're led into what feels like the wings of a stage; you forfeit belongings like your phone, purse, and whatever else you carry on you at coat check. You're to play a spectating, silent part, and are given blank, hollowed-out masks to wear as you are ushered into the tragic tale of Macbeth.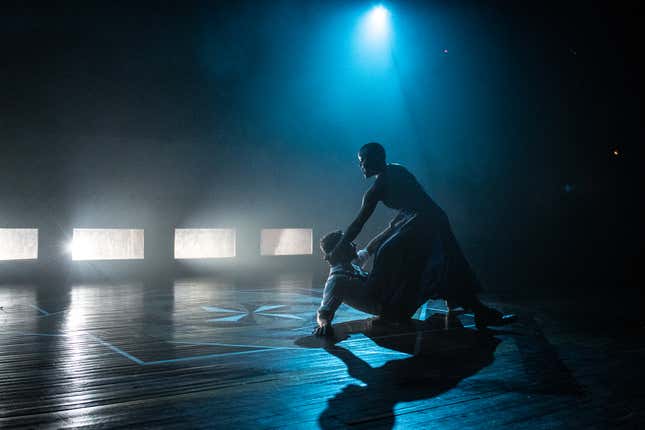 The creaking of wooden floors and the swishing of dresses immediately transport you into another time. It's sizzling and cinematically moody as you witness a noir tale of power and murder. It all unfolds around you with the troupe really embodying specters whose fates are imprinted between the walls and in the rooms of the hotel like a twisted purgatory. It's a truly haunted hotel, but just not in the jump-scare way. They're the poltergeists of play, and their memories play on a loop over and over as you'd imagine ghosts cursed to live out their unfinished business would. And they see you.
The roles of the spectators isn't interactive in the sense that you're required to carry out any action to unlock a plot thread. Your presence feels like a surrender to dream walking, as if you checked into the McKittrick, heard some noises go bump in the night or saw a shadow in the hall—but decided to quickly go to sleep, only to wake up in that space between life and dreaming where you see what unfolds between the players. It feels illicit as you're led into intimate moments between murderous lovers, observe scheming supporting roles, and bear witness to innocent lives being taken. And there's the rub: when you behold the most harrowing of moments, they know you're there, someone to carry the weight of what really happened in desperately quiet pleas for help or in manic confessions. This is particularly the case with Lady Macbeth, whose madness quickly breaks the fourth wall; we become those who know what she did and our knowledge drives her further and further into her insanity.
With over three hours of the tale, during which you can follow each character for the run, there's so much to see from the different points of view that one visit isn't enough. It's an astounding feat of art that has sheer re-playability, because there's so much detail and story to explore within the realms of its various stories from the Bard's text. The rooms are exquisitely designed; in one space you're in the desolate winter or lost in a maze, in another or you're in a candy store with secrets or seeing some sexy boudoir action—and then, in another bedroom, the fateful death that ties all the spirits to the hotel. The ensemble is stellar and falls into moments together in total sync and around you in ways that prove the might of the East Coast troupe.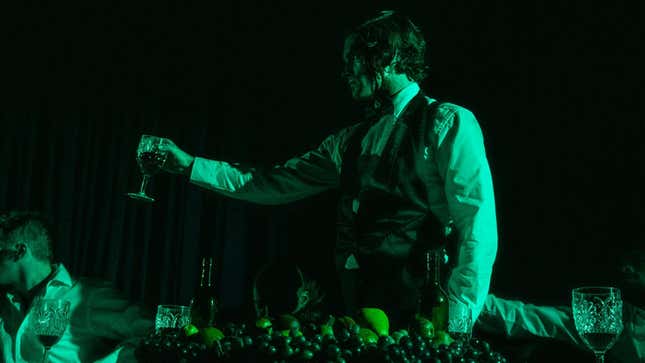 It can be overwhelming and overstimulating, wandering their tragic gorgeous hellscape—but don't worry. It's nice to be able to break away into a lounge for a breather and drink, which I needed a time or two before submitting to the cinematic seance with other guests again. My partner who accompanied me (and who I got separated from many times) had a different experience altogether from our voyeuristic adventure. And as we compared each scene we saw unfold, we knew we couldn't wait to come back again despite the heaviness of how deep into the Scottish Play's tragedy we got, it was addicting. We could see how many were inspired to create more tales like this one across genres in immersive entertainment. But be aware that the levels of involvement really do affect you in deeper ways than a movie or book. Especially the gut-punch of an ending that feels like an explosive exocism in slo-mo you're stuck in sleep paralysis while experiencing. You'll feel like you need an energy cleanser and sage right after, and maybe before the next time you check in.
---
Sleep No More is produced by Punchdrunk and Emursive alongside the McKittrick Hotel. Its current performance schedule runs through November 5. The McKittrick also hosts a new nighttime spectacular that's like a horny, kitschy Disney or Universal show called Hypnotique. The theater troupe also recently opened a sister play, The Burnt City, in London during 2022. For more information on ticketing visit here.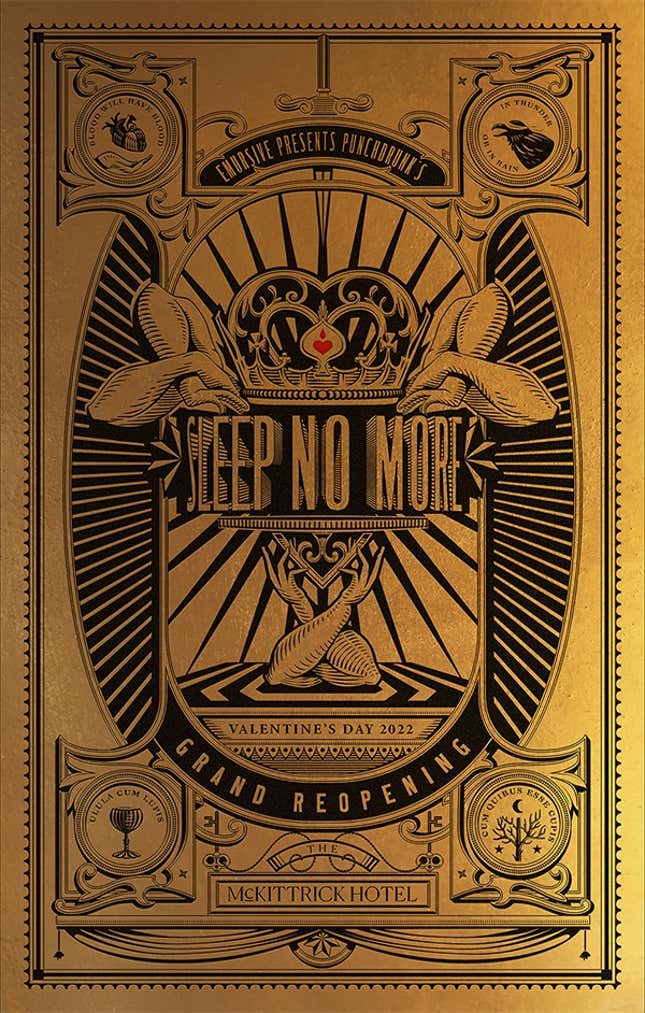 ---
Want more io9 news? Check out when to expect the latest Marvel, Star Wars, and Star Trek releases, what's next for the DC Universe on film and TV, and everything you need to know about the future of Doctor Who.