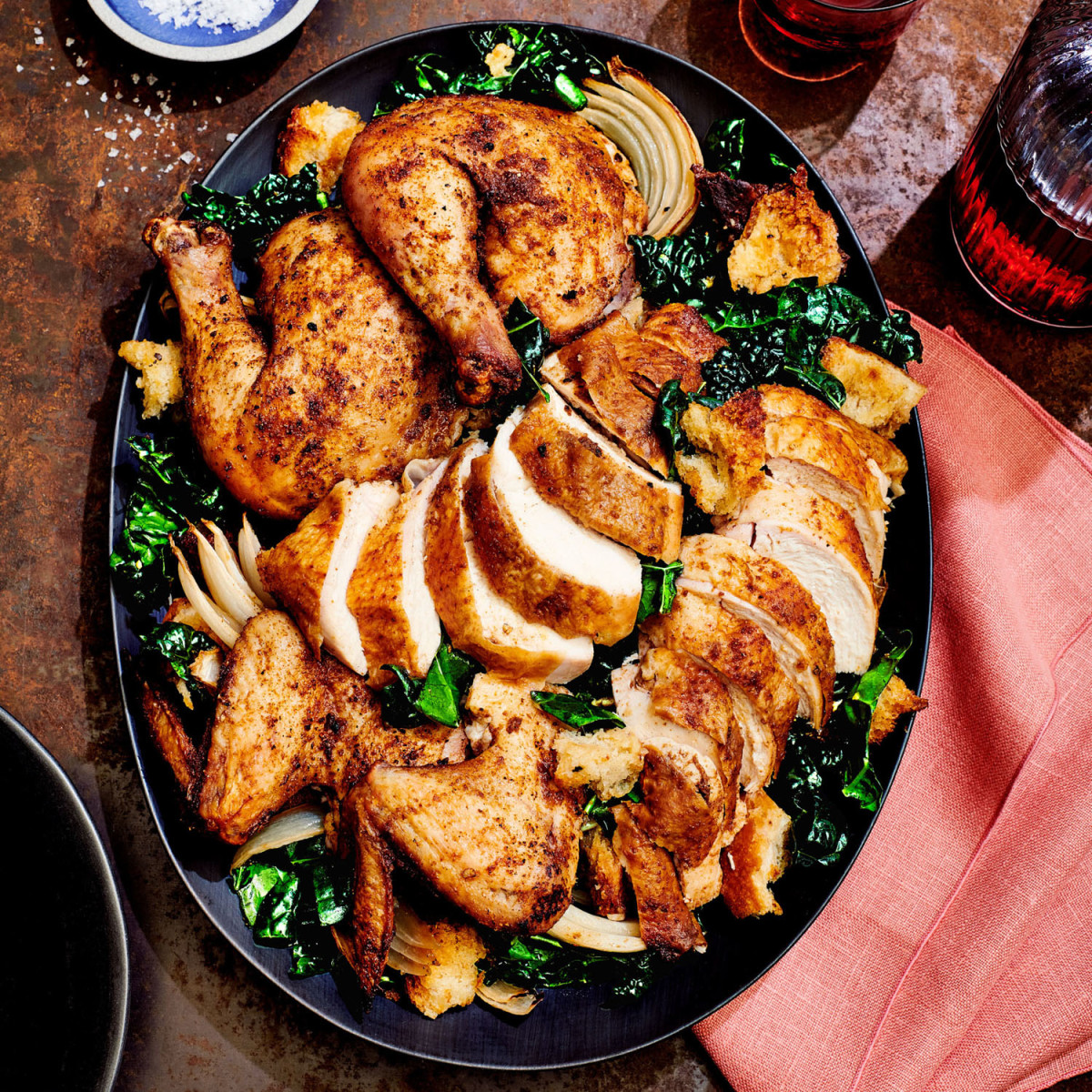 Recipe by Molly Stevens
This recipe originally appeared in our Winter/Spring 2021 issue. Get the magazine here.
| | |
| --- | --- |
| Start to Finish: 5 hours 30 minutes | Servings: 4 |
Ingredients
Chicken
1 whole chicken (3 1/2 to 4 lb.)
Spice Rub
2 tsp. ground coriander
1 tsp. ground cumin
1 tsp. cracked black pepper
1/2 tsp. paprika, hot or sweet
1/4 tsp. ground cinnamon
2 tsp. kosher salt
2 tbsp. EVOO
Salad
6 to 8 oz. country-style bread, torn into 1 1/2- to 2-inch pieces (4 heaping cups)
1 large yellow onion (about 10 oz.), cut into thin wedges
4 tbsp. EVOO
1 bunch Tuscan kale, stems and inner ribs removed, leaves cut crosswise into thin ribbons
1 lemon, juiced (3 to 4 tbsp.)
1/8 tsp. crushed red pepper
Preparation
1. Butterfly the chicken by removing the backbone and wing tips. In a small bowl, combine the spices, salt, and EVOO. Rub the spices all over the chicken and under the skin of the breast and legs. Place skin-side up on a tray. Refrigerate uncovered for 4 to 24 hours.
2. Arrange the oven rack near the center; preheat to 400°.
3. In a large mixing bowl, toss the bread and onion with 2 tbsp. EVOO. Season with salt and pepper and spread in a shallow roasting pan or large skillet. Place the chicken on the bread, skin-side up. Roast until an instant-read thermometer inserted into the chicken thigh registers 165°, about 50 minutes. (If any of the exposed croutons get too dark, tuck them under the chicken.)
4. Meanwhile, in a large mixing bowl, toss the kale with 2 tbsp. lemon juice, the remaining 2 tbsp. EVOO, and the red pepper flakes; season with salt. Using your hands, massage the kale until every shred is well coated. Set aside.
5. Transfer the chicken to a carving board to rest for 10 minutes. Add the croutons, onion, and any pan drippings to the kale salad. Toss and season as needed with more lemon juice, salt, and pepper. Carve the chicken into pieces and serve alongside the salad.