When will Silicon Valley Bank depositors get their money back — and will they be made whole? Questions swirl after lender goes down
When will Silicon Valley Bank depositors get their money back — and will they be made whole? Questions swirl after lender goes down
As an FDIC-insured lender, anyone who banked with SVB had their money guaranteed by the federal government — but only up to $250,000.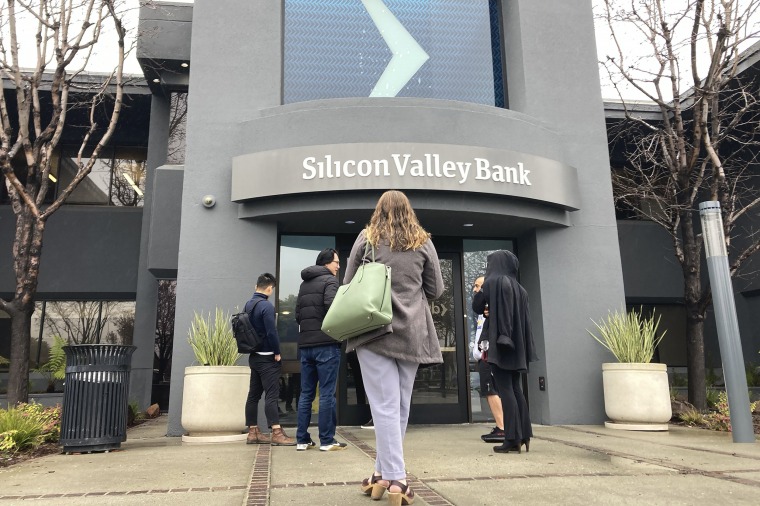 People stand outside an entrance to Silicon Valley Bank in Santa Clara, Calif., on Friday.
Jeff Chiu / AP
In the wake of the stunning collapse of Silicon Valley Bank, depositors who kept their money with the lender wonder when they'll get their money back — and if they do, whether they'll be able to retrieve all their funds.
The bank's funds are currently in the hands of the Federal Deposit Insurance Corporation. Since SVB was an FDIC-insured lender, all who banked with it had their money guaranteed by the federal government — but only up to $250,000.
That's left anyone with more than that amount — totaling 90% of SVB's deposits — in financial limbo. It's a group that includes Roku, which said it has nearly $500 million with SVB; Roblox, which said it has $150 million with SVB; and numerous others — SVB claimed to have approximately half of all U.S. venture-backed tech and life science companies and more than 2,500 venture capital funds as its customers. Other firms, including Etsy, have already told customers they are facing payment processing delays.
This weekend, the FDIC will attempt to find an entity that will buy SVB outright, said Morgan Ricks, a professor of banking and finance at Vanderbilt University.
But the FDIC has already telegraphed that it does not expect to find such a purchaser, Ricks said, having announced Friday that it intends to issue "receivership certificates" to customers for deposit amounts in excess of $250,000. The FDIC also announced that "as it sells the assets of Silicon Valley Bank, future dividend payments may be made to uninsured depositors."
"It gives you the sense FDIC doesn't place a super high probability on finding a buyer," Ricks said.
If there is no buyer, what happens next? Ricks said customers with uninsured funds will likely eventually see their money — but there is no guarantee they'll get all of it back. The FDIC will commence a liquidation process of assets that SVB valued at more than $200 billion — but the actual dollar amount those assets fetch is likely to be less.
"Uninsured depositors will get a recovery, and may even get a full recovery, but that will happen at some point in the future," Ricks said.
For a company that needs to meet payroll, Ricks said, "it's far from ideal."
"But it's definitely not going to be the case that uninsured depositors are wiped out, meaning that there's no recovery whatsoever," Ricks said.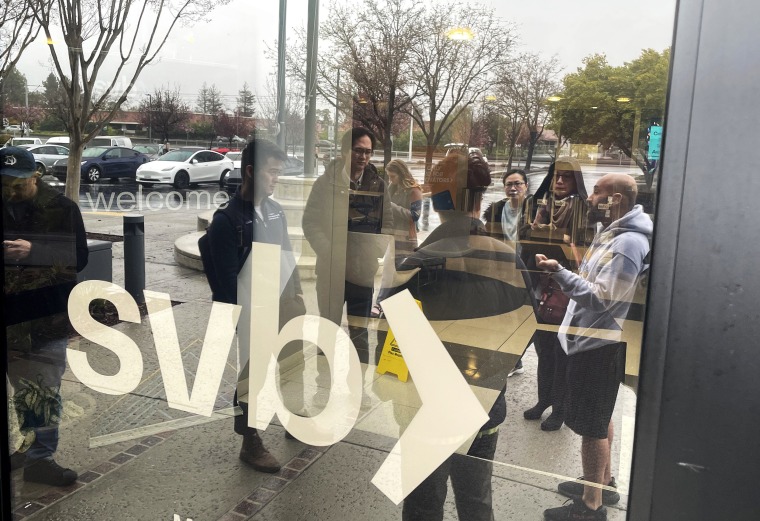 Over the weekend, a mix of Silicon Valley investors and California politicians called on the FDIC to make all depositors, including ones with uninsured amounts, whole. Saturday afternoon, California Gov. Gavin Newsom issued a statement saying he had been in touch with the Biden administration and other Washington officials about SVB.
"Everyone is working with FDIC to stabilize the situation as quickly as possible, to protect jobs, people's livelihoods, and the entire innovation ecosystem that has served as a tent pole for our economy," Newsom said.
But Ricks said that in order for the FDIC to use public money to help uninsured depositors, it must declare a "systemic risk exception" — something that requires two-thirds of the Federal Reserve Board of Governors, two-thirds of the board of the FDIC, and the Treasury Secretary, in consultation with the president, to approve.
"That seems to me extremely unlikely," Ricks said.
For the average person or business, the collapse of SVB sets a troubling precedent, Ricks said. While it never hid its financial issues, for a bank of the size, scale and reputation of SVB to go down suggests customers should have been more acutely aware of the problems, a concept Ricks finds "ridiculous."
"Most businesses don't want to be in the business of evaluating financial institutions' balance sheets — it's not their comparative advantage," Ricks said.
Going forward, he said, more firms and individuals are likely to take their business to too-big-to-fail banks that they know would receive governmental support in a worst-case scenario.
"That's unfortunate for our financial system," Ricks said.
If you're someone who does not plan to bank at a major bank going forward, Ricks said: Start boning up on bank safety and soundness.
"That's the whole theory of it," he said. "I think it's sort of silly — it's a silly way to manage our monetary system."

Rob Wile
Rob Wile is a breaking business news reporter for NBC News Digital.