I am a big fan. – Singer Ykee Benda Expresses Love For Victor Ruz Music.
Singer Ykee Benda has come out to express his love for Victor Ruz music.
In a social media post, Ykee posted a photo of him and Victor Ruz with a caption "A talent like Victor Ruz, I'm a big fan bro
"
This rubbed the Love legend hit-maker in the most emotional way as he took to his social media to appreciate Ykee's support.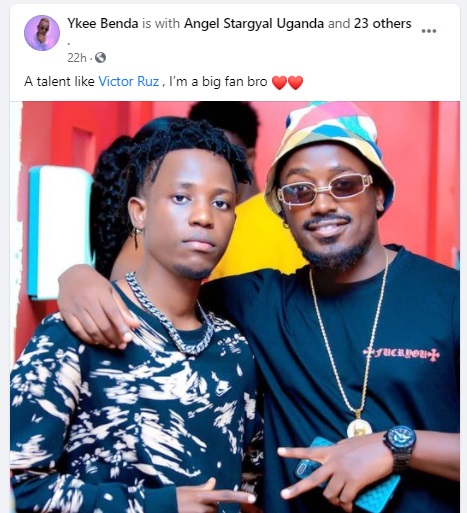 "Respect To The Old Generation, One Love To The New Generation. That's All We Got To Do For A General Fruitful Ending" Victor Ruz responded.
The gesture by Ykee Benda is not a common one especially in the Ugandan music industry as many of the artists look at others as competition thus making it hard for them to recognise each other.
Also Read: He's the reason I am doing Music. – Ykee Benda Begs Akon For A Collaboration.
Some have gone as far as blocking other's music on media, and around them.
This is common with established artistes who look at any new talent as threat.
The vice seems to however be changing with the new generation of artists raising hopes of it's erasure.
We look forward to seeing the two giving heir fans something anytime soon.
Also Read:Oh Jeez! She Should Prepare For Some Good Loving! – Victor Ruz Promises Girlfriend.