Kampala Population Visioning a Digital City as Erias Lukwago Ranks Second Preferred Candidate – Survey.
With less than 10 days to the 20th January, 2021 Kampala Mayoral Elections, there is divided opinion on the incumbent's decade long performance rate card and whether he can reclaim the capital city's top seat, a latest survey responded to by over 1200 people of Kampala has revealed.

In an opinion poll titled #KampalaMayorVote and ran on the Crowd Signal platform between Wednesday 6th and Monday 11th January, 2021, it is clear that the People of Kampala are not satisfied with the current political leadership of the city, believe in a digitization agenda and would overwhelmingly vote for a new face at the City Hall.
But because they are close to 10 contestants, the vote is divided and this may favour the incumbent.

Asked to rate, Erias Lukwago's 10 years tenure as Kampala Lord Mayor, 74.4% rated his leadership as very poor, poor and average, compared to only 25.6 % that rated him as either good or very good.
On the question of transforming Kampala in to a digital city that serves and rewards its people, 95.8% voted in the affirmative. They collectively noted that digitizing of Kampala City would be a Good, Very Good and Excellent Idea. Only 4.2 said that Digitizing Kampala is a bad or very bad idea.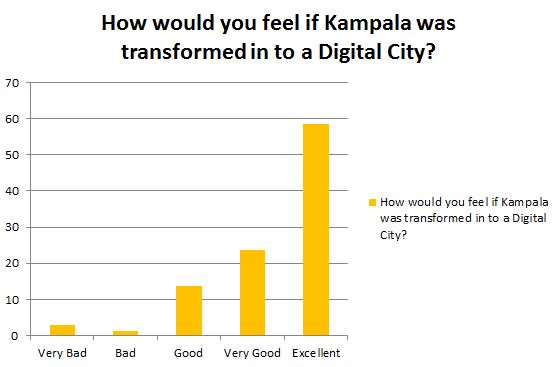 All candidates have campaign themes that summarize their manifestos and what they intend to do when elected. The poll also sought to find out which Campaign Theme best addresses Kampala's Problems of Poor Sanitation, Floods, Unemployment, Poor Transport and Inadequate Social Services?
55% of the respondents rated Digitizing Kampala by Kawooya Innocent as the best campaign theme, 14% are impressed with Erias Lukwago's Rule of Law while 13.9 percent prefer Solutions by Joseph Mayanja.
Then came the greatest question of the day. Who will you vote as the 2021-26 Kampala Lord Mayor?
To this, 28% voted for incumbent Erias Lukwago, 40% preferred Kawooya Innocent while 13% were for Joseph Mayanja. Nayija Nabilah Ssempala had 8%, Daniel Kazibwe pulled 4% and Charles James Ssenkubuge 1.8%.
2.2% would vote other candidates while 1.7 wouldn't vote at all.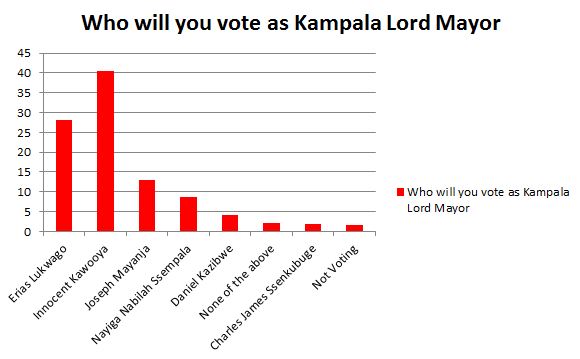 With less than 10 days to the Lord Mayor Elections, we wait to see how the actual vote will turn out. But for now, Kawooya Innocent is leading, if the over 1200 responses from this poll are anything to go by.