Musicians' Election Halted After Ministry Promised Association Funds.
The Uganda Musicians' Association had earlier announced a general election for it's membership to choose a new executive committee today 28th June 2022. The guarantee status of the election however was altered when several letters came in from authorities that rule over the association advising that the the election be postponed. Among these was the National Culture Forum(NCF), Uganda National Culture Centre(UNCC), and the recent one being the Ministry Of Gender Labour and Social Development.
Latest news is that even after the resistance that the association's policy board put up to make sure the election goes on, the ministry published a letter yesterday confirming that following a meeting between the ministry and other stakeholders, the elections were not going to happen today as earlier planned.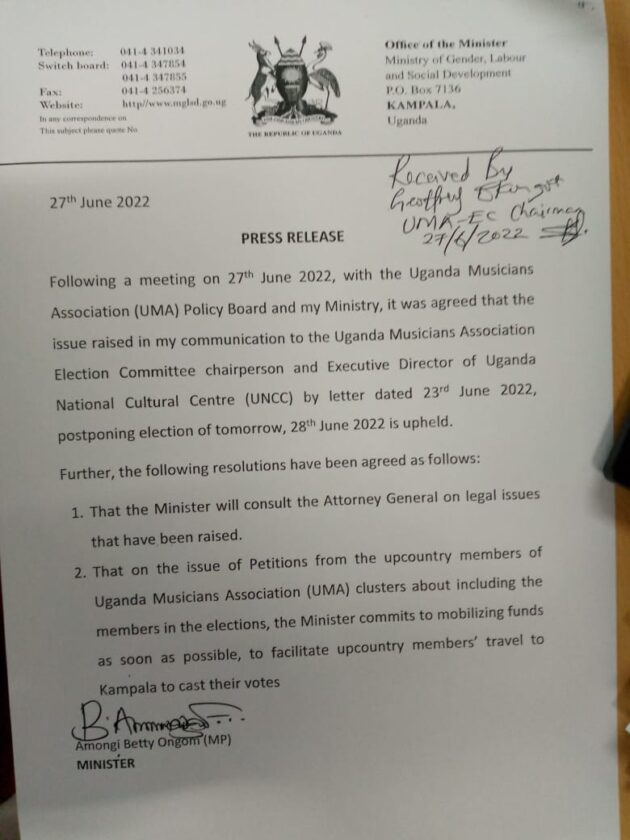 One of the major reasons in the letter signed by the Ministry's Cabinet minister is to allow the ministry time to source funds to transport artists from across the country to come for the election as one of the reasons raised as a complaint.
The other reason is "for the ministry to consult the attorney general about the legal issues raised".
We therefore await the future date that is yet to be announced.