Photos Show California Under Water After Atmospheric River Storms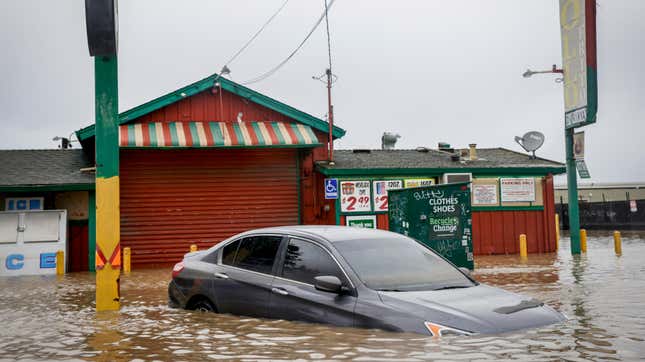 California has been grappling with storm after storm since November. The state, which was just up until recently plagued by extreme ongoing drought, is now instead at the mercy of too much rainfall all at once.
The most recent, still ongoing storm is yet another atmospheric river, a common type of weather event for the West Coast wherein water vapor condensed over the ocean is pulled onshore by air currents and thermal gradients.
Beginning Monday and and continuing through Wednesday yet more rain and snow has been falling over the Golden State, exacerbating existing flooding and bringing new problems.
At higher elevations, in the snow-smothered mountains, some local residents had previously reported being trapped in their homes with dwindling supplies for days and even weeks on end. Though emergency crews and rescue workers have been responding to calls for help, at least four people were found dead in their homes in one mountainous part of San Bernadino County earlier this month, per the New York Times. Since late February, at least 11 people in the region have died as a result of storms, the county sheriff told NYT last week. Tens more were killed in storm-related incidents earlier this winter.
On Friday, a levee holding back the Pajaro River on the border of Monterey and Santa Cruz counties collapsed, during the preceding atmospheric river rainfall last week. The levee had been a known flood risk, and the subsequent surge of water from the breach inundated nearby buildings and peoples' homes. The unincorporated community of Pajaro, largely home to Latino farm workers, was particularly affected. More than 8,500 people in the area faced evacuation orders, according to KQED. Community recovery will take months as people work to fix their homes, according to a county supervisor.
On March 12, Governor Gavin Newsom expanded a previously issued storm state of emergency to six more counties.
Today, as of writing, nearly 200,000 people in California are without power, and floodwaters continue to rise in some low elevation parts of the state, while snow piles up in others. A large area of inland Northern California, including Sacramento County is under a flood warning, along with other patches around the state. In Southern Calif., Anaheim, Riverside, San Bernadino and other areas are under a flood watch, according to the National Weather Service's most recent alerts.
After tonight, the current bout of precipitation is expected to move on to the southern Rockies and Southwest, where it could cause flooding for that region as well, per NWS's most recent short-range forecast. Yet California may not be out of the woods yet, this year. More atmospheric rivers could emerge throughout the rest of the month, as the wet season typically extends into spring.
And in the long-term, the state will almost certainly incur similar future winters. Research suggests that climate change will continue to worsen the intensity and frequency of atmospheric rivers—along with intensifying droughts. Climatologists expect both California's wet and dry periods to become more extreme as climate change progresses.
Click through to see photos of the most recent storm impacts across the Golden State.