UNCC GEARED UP FOR 5TH ANNUAL ARTs AND CULTURE FESTIVAL
The Uganda National Cultural Centre will celebrate its 5th UNCC Annual Arts and Culture festival 2023 under the theme "Celebrating our Cultural Diversity for Mindset Change". 
A two days event will take place at the National Theatre from Friday 3rd – Saturday 4th November 2023. Activities for this year's festival include cultural performances, a symposium, workshops, music, dance, and drama, talk shows and media briefs. Headlining artistes include Suzan Kerunen, Annet Nandujja & the Planets, Hadiija Namale famous for new year's song "mukulike omwaka", Hanny Ssensuwa, renowned gospel artiste John Marie, Eli Bulamu, Andeleya Baguma, Mitch Isabirye, among others.
Additionally, the festival will showcase exhibitions that highlight Uganda's rich cultural heritage, as well as a Fashion Runway event that will spotlight various cultural fashion sensibilities.
The UNCC Festival serves as a cultural and artistic celebration that unites individuals from diverse ethnic backgrounds and nationalities, enabling them to revel in their cultural heritage. It also offers a platform to celebrate artistic talent and project Uganda as a culturally vibrant, united, and forward-thinking nation. 
The Festival Programme
Day 1: The festival will officially open on Friday starting with a student's mentorship program presented by Tassles Films and an Exhibition tour. The opening acts and performances will feature Gospel Artist John Marie and the Kulture 256 Troupe.
Subsequently, there will be an official launch of the exhibition at Nommo Gallery and film screening entitled Restitution 101 – A History of Theft all at Nommo Gallery including traditional games by Cheza, exhibitions, cultural performances, stage plays, live band performances, and DJ sessions throughout the day.
The day's lineup of performers will include Annet Nandujja & The Planets, Andeleya Baguma, Jackaki Band, and Naakalya Nsubuga, as well as performances by Clevers Origin Primary School, the Kyambogo University Department of Performing Arts, Kulture 256 & Famous Friends, and Kitara Poet.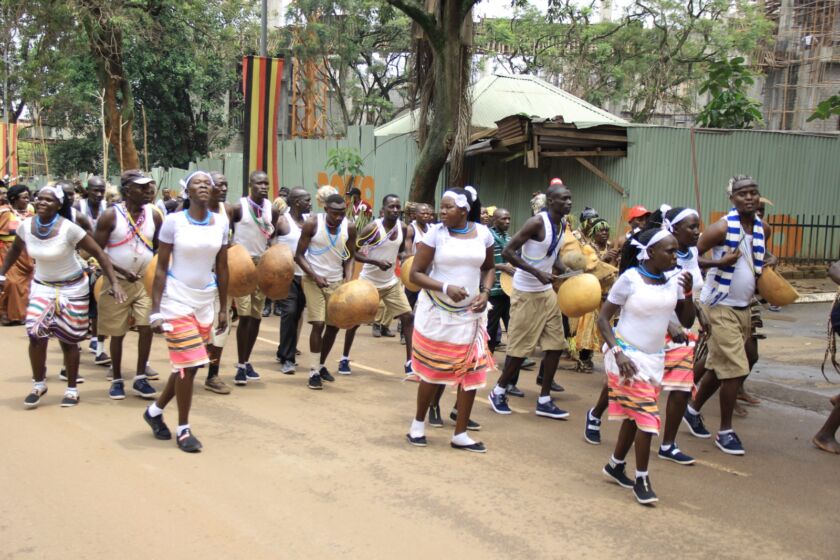 Day 2: Saturday will commence with "Who Killed Captain Alex & ONEKA" film screening curated by Pearlwood. Following this, at 10 am, the festival symposium, hosted by Charles Batambuze of NCF, will begin with a panel of distinguished experts including Dr. Muhumuza Micheal from PAF-MUK, Geffrey Ekongot from UMA, and Barbara Atusasiire from Tassle Films.
Starting at 2pm, a festival variety showcase will take place, featuring a diverse array of performances. The lineup includes another film screening by Pearlwood, a creative dance presentation by Jacinta Nursery and Primary School, contemporary dance performances by Uncle Walter with Warom Dance Company, poetry recitation by Mitch Isabirye, a fashion runway display by Millenium Fashions, a poetry theatre performance by AFCTA KAZINI CARAVAN from Kenya, a comedy session by Cheka Cheka Junction, and a special act titled "A TALE OF WASSWA" by Daniel Setabla, featuring the talented HOT Cultural Performers.
To round out the day, there will be captivating live band sessions featuring Suzan Kerunen, Walter YT, and Mulungi Nuel.