UNEB Disowns Ssegirinya's 'Academic Documents'.
Uganda National Examinations Board(UNEB) has disowned Kawempe North, MP Elect, Ssegirinya Muhammed's alleged academic papers that have been shared on social media.
This was confirmed by UNEB Spokesperson, Jennifer Kalule who told the press that these papers don't have any of the UNEB certificates security features.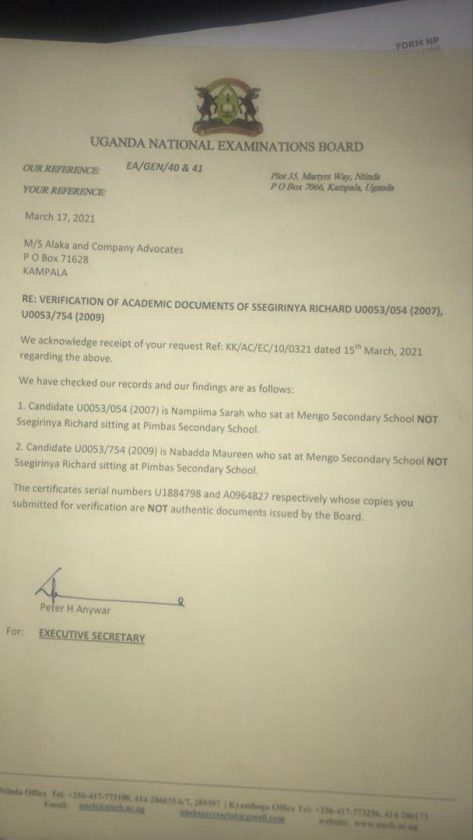 She tagged the problem to the law that doesn't make verification of academic compulsory.
Ssegirinya on the other hand has however said that he has his original documents adding that he wouldn't be sharing them until the right time.
"My documents are here and I should by the way have released them for you all to see, but I won't for now simply because my enemies lack evidence. I don't want to give it to them, let them table whatever they have first and then I release mine last," noted the Comic MP elect
Also Read: Ssegirinya Studied From Here but Didn't Sit For Exams. – Headteacher.
Ssegirinya was dragged to court by former run-mate, Sulaiman Kidandala on grounds of fake academic documents.
The Presidential Elections Act 2005, the Parliamentary Elections Act of 2005 and the Local Government Elections (amendment) Act 2005, require all prospective aspirants for positions of the President, Members of Parliament and district chairpersons to have completed a minimum formal education of advanced level standard by UNEB or its equivalent.
Ahead of the 2021 general elections, UNEB issued a circular to all the political aspirants to verify their academic documents.
The aspirants were required to submit copies of their certificates to be verified, an introductory letter from the respective schools, a copy of the National ID in addition to paying Shs 600,000 as verification fee.
Through his lawyers Alaka and company advocate,Ssegirinya who used the name of Ssegirinya Richard (he later converted to Islam) at the time submitted his academic credentials for verification.
This new development means that Ssegirinya's election hangs in balance and if challenged in court, he could be thrown out.