Buganda Premier Initiates Bobi Wine-Bebe Cool Reconciliation At 10 Years Of Eddy Kenzo Concert, Gets The Two Hugging After Decades.
The Premier of Buganda Kingdom Owek. Charles Peter Mayiga was seen instructing Bebe Cool to greet his rival Bobi Wine who was sitted next to him. This was after Bebe came to greet the premier.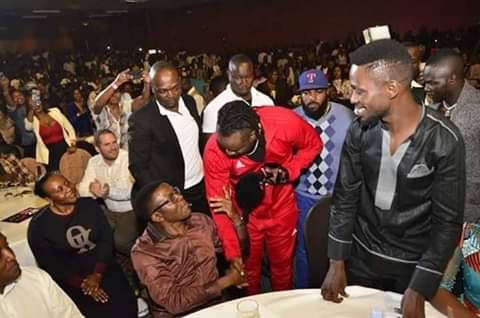 Bobi Wine and Bebe Cool had a a handshake and a hug that they have never had in public for the last at least two decades as the revelers chanted. The two later on sat on the same table and the premier was often seen talking to them both at once. They also appeared on one stage for the very first time in a while.
"I'm so happy to be here with my brother Bebe Cool," Bobi said after Roger Mugisha handed him the microphone and they hugged again.
This was registered as a great move towards the reconciliation between the two.