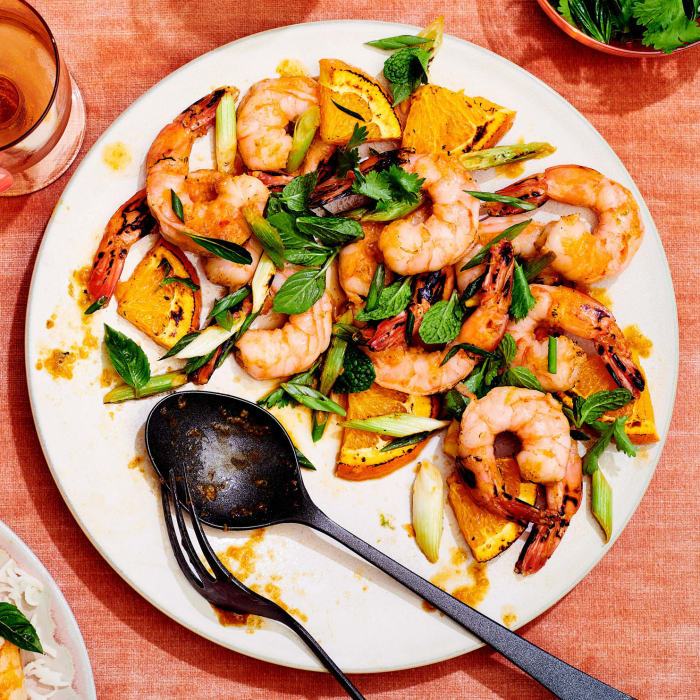 Recipe by Molly Stevens
This recipe originally appeared in our Winter/Spring 2021 issue. Get the magazine here.
| | |
| --- | --- |
| Start to Finish: 35 minutes | Servings: 4 |
Ingredients
Marinade
3 tbsp. EVOO
1 tbsp. soy sauce
3 cloves garlic, grated (about 2 tsp.)
1 tsp. sriracha
1 small orange, zested and juiced (1 tsp. zest, 1/4 cup juice)
1 lime, zested and juiced (1/2 tsp. zest, 1 tbsp. juice)
1/2 tsp. kosher salt
Shrimp
1 1/2 lb. large shrimp (16–20 count), peeled and deveined, tails left on
1 small bunch scallions—whites sliced on an angle into 1/2-inch pieces, greens finely chopped
3 orange slices (1/2 inch thick), seeds removed, cut into quarters
3 tbsp. fresh herbs, such as cilantro, Thai basil, mint, parsley, or a combination
2 tbsp. melted butter, for serving (optional)
Preparation
1. In a medium bowl, combine all the marinade ingredients. Add the shrimp, scallion whites, and orange slices. Toss to coat and refrigerate for at least 20 minutes but no more than 2 hours.
2. Preheat the broiler with an oven rack placed 4 to 6 inches below the heating element. Line a rimmed baking sheet with foil. Using a slotted spoon, transfer the shrimp, scallions, and oranges onto the baking sheet and arrange in a crowded single layer. (Discard any remaining marinade.) Broil, turning the shrimp with tongs halfway through cooking, until shrimp are cooked through and orange slices have a few charred edges, 2 to 3 minutes per side.
3. Shower with scallion greens and herbs and toss with melted butter, if using. Divide the shrimp, scallions, and oranges among serving plates, drizzling pan juices over the top. Serve immediately.