First Legal Physical Music Concert Since Lockdown In Uganda Cleared, To Be Used as Benchmark.
The very first legal music concert in Uganda ever since the lockdown that started last year is set to happen this March.
News reaching the EJazz media desk reveals that Ministry of Health has permitted a charity concert to happen at theatre La Bonita in a bid to fundraise for ailing singer Evelyn Lagu who is looking forward to a kidney transplant.
According to the ministry's spokesperson, Emmanuel Ainebyona, the event was confirmed to happen by the Director of General Health services who sighting the reason of the concert to be a genuine and very strong one.
'He however cautioned them to follow all the Standard Operating Procedures, for example not having more than 200 people" Emmanuel told EJazz.
He adds that this was in response to a documented request by the organisers who promised to follow all SOPs and that it was an isolated and very important case. He also wished that the concert raises enough money for the artiste to receive treatment.
Many events have happened but not physical in nature and many physical events have ended in tears because of their illegality. The forthcoming event could actually be used as a benchmark to evaluate the move to open events.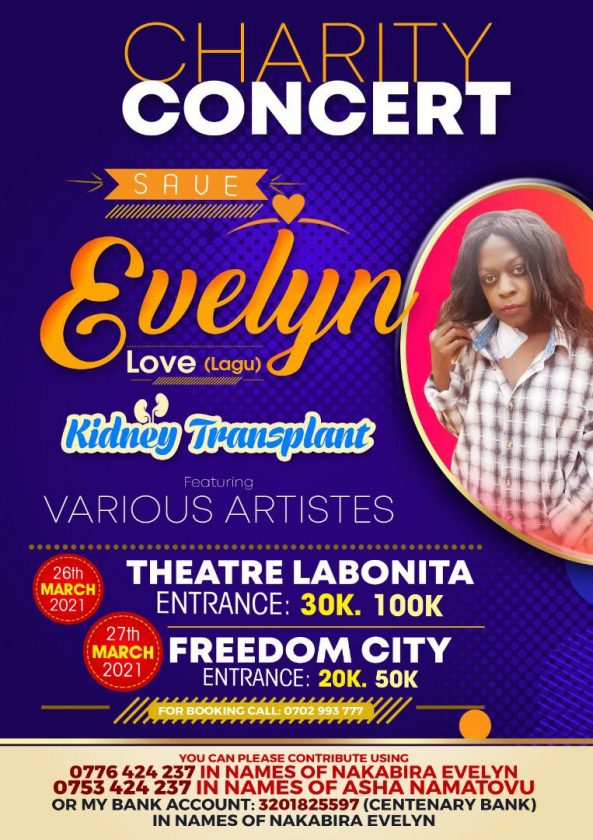 Singer Evelyn Lagu has in the recent past been down and battling with heart complications and kidney diseases that have seen her check into the hospital on several occasions since 2019.
She's currently looking at having a kidney transplant at a budget of 250M UGX a goal she asked Ugandan's to join her achieve.