Bedriden Mukono Municipality Member Of Parliament, Hon. Betty Nambooze has lashed out at the President's Press Unit his publicity.
Nambooze seemed so distressed about a photo that went viral on facebook that had musician Bebe Cool, his wife and the President Of Uganda; His excellency Yoweri Kaguta Museveni holding onto a poster of Bebe Cool's forth coming concert.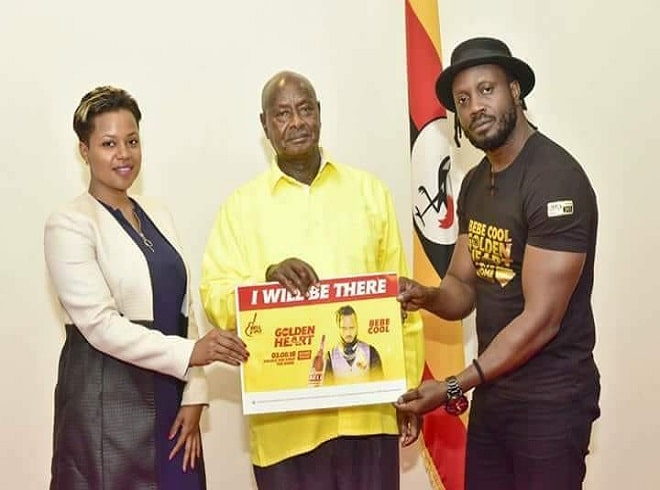 According to Nambooze, who is currently in India for treatment, this is a way of promoting alcohol which a president should not do.
"Uganda is ranked the second drunkard Country in the world. We are losing many of our youth to drunkardness and all leaders must focus their effort to fight drunkardness especially amongst our youth" Says Nambooze.
She further questions the manner with which a president is used to market the same vice that he would be fighting.
"Now in a country that faces such a crisis how can the Presidency be used to market and promote alcohol" Nambooze adds.
Nambooze could not help but rather question Don Wanyama, the Senior Press Secretary to the president about how such a thing could happen.
The problem-causing poster is about Bebe Cool's concert, dubbed "Golden Heart" slated for 3rd August 2018. According to Bebe Cool proceeds from the concert will help children with heart defects by facilitating their medical and travel bills in India,