My Cameraman's Life Was Important To Me. – Canary Mugume Explains Why NBS Didn't Do A Live Broadcast of The Kirumira Shooting Aftermath.
Following the several inquiries about why NBS TV never showed the live feed from Kirumira's Assassination crime scene yesterday, we followed up the story to find out why!
Below is what Canary Mugume who was assigned to do the story has to say.
At about 9:15pm my phone buzzed endlessly as I received numerous messages from numerous contacts. The continuous vibrations could even be mistaken for a musical beat. Texts were demanding me to confirm Muhammed Kirumira's death. I fell in shock and called his number, I couldn't reach him. I knew something was wrong.

I called Police, and they too couldn't confirm for a while until one of them called me back, and said; "It is true, Kirumira has been shot, and he might not survive." From work, I had not settled at home, I even still had my NBS press tag, tightly gripped on my belt. I left home hurriedly and jumped on a boda-boda. In about 42 minutes, I encountered serious traffic jam in Bulenga, this later announced my arrival at Kirumira's crime scene.

Like we do at NBS always, I was ready to broadcast the event live, but yet my camera partner arrived 5 minutes after me; we were good to go. Police pushed all journalists out of the cordoned-off crime scene. The crowd behind us turned unruly and furious, started pelting stones to Police officers who were just next to us. In trying to take cover I was called out by Kenneth Kaweesa my camera partner informing me that his face had been hit and injured by a stone in the chaos.

My determinations to carry him out of the chaos were wasted, as Police released live ammunition in the air, we instead took cover to avoid more injuries. In our direction, ran 4 other journalists carrying one of their own from CBS who had fainted. I was afraid he had been either shot or hit with a stone. As journalists, we were caught up between a hard place and a rock. To either run to resident's side and risk being shot by a 'stray bullet' or run back towards Police's side and risk more injuries from stones. We couldn't even stand in the middle as we would be victims of both stray bullets and stones.

After a few minutes, the crowd that was shouting People Power and expressing their anger towards Police had been dispersed. The CBS journalist had now been put on a boda that drove him to the nearest health facility that was about a Kilometer away from the Crime Scene. Space was clear for me too, to carry Kaweesa away to be able to receive first aid. As I carried him away, I met several people rushing to the crime scene abusing me and asking me why NBS is not covering the event live. As much as I wanted to stop and explain to all the people that I am actually at the crime scene to cover the ugly incident, I couldn't because Kaweesa's health was very important to me. He was bleeding from the mouth and I was afraid he would run unconsciously due to over bleeding before he received first aid.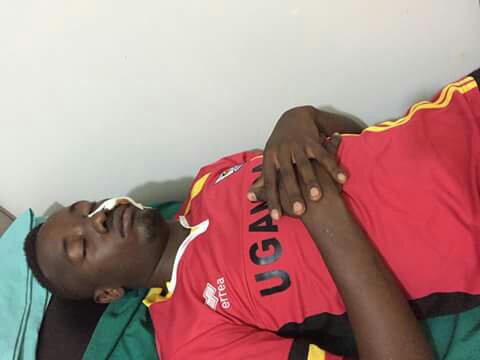 NBS' Kenneth Kaweesa receiving medication after being stoned to bleeding.