NTV's Faridah Nakazibwe, Minister's Daughter At Whooper War!
Well-known Tv Personality of the Nation Media group and NTV in particular: Faridah nakazibwe has today morning given up to what seemed to be overloaded pressure.
Faridah came out and spilled shocking details about how fellow Media personnel also daughter to Minister of Agriculture , Justine Nameere is working hard to fail her marriage.
According to Mwasuze mutya presenter, Nameere has created over 10 pseudo accounts which she has been using to malign her (Nakazibwe) in the face of her husband a one Omar Ssali by telling him how she is a prostitute who sleeps with all kinds of men for money and favours.
Below is Faridah's Full Statement.
ENOUGH is ENOUGH!

THIS GOES OUT TO YOU JUSTINE NAMEERE.

Well….silence is one of those tools I have used to win in life. I wish I could continue keeping quiet but…not with my name being pulled down by someone I have only met at a workplace before.

I don't know much about you, Justine. I don't care about your life. Infact, I don't want to know you beyond what you did at NTV but.. Wallahi onnemeddeko, forcing me to bring your inbox dirt out. (I know you are going to deny it coz gal, you have mastered the art of FAKE)

Am not so sure what your cause is…I am only seeing a woman focused on bringing me and my marriage down.

1. You have opened up over 10 fake facebook accounts(some opened up in my name, using my picture), writing to my husband, maligning me. At first, I thought it was a joke and I even personally texted you in your fb inbox, notifying you about someone using your mobile number as a contact for my husband to reach them. You denied….only for your continued texts to give you away.

2. You have threatened us continously and I chose to treat you as a barking dog, hoping you would give up but…you just won't stop!

3. You have tapped my phones, hacked my fb and email accounts, you have offered my freinds money in exchange for information about me, stalked me on tv, office and along the way home, but stilled you can't produce proof of my alleged infidelity.

4. There is proof that you are responsible for the bad press around me for the past over 1 and a half years and I ask myself:

Are you threatened by my little success? Do you need my help indirectly? Why are you so bitter? Are you an obsessed admirer of me? Why are you so bent at failing me? When do you ever get time for yourself and your family?

Anyway…..attached are just some of the hundreds of screen shots of your lugambo to my hubby via his inbox, whose access I have btw and….your latest fake account JOJO BELLA in my inbox before you took your desperacy to bloggers, pretending to be my freind's wife…God!!. Did you even think of what that could do to his young family????

You can now pull out your tired phrase of….."I am a lawyer and I need an apology or else this post should be pulled down before I sue you." 🙄

Am doing this not because am a coward seeking attention but because I am sick and tired of being stepped on by you, Justine who thinks you can kill my name through a mere baseless chat to an unprofessional blogger who is so used to copy and paste. Do you know how many people you are hurting along the way?

Btw, I am deliberately staying away from releasing voice call records to my husband, pictures of your hot gals in Qatar with their mum on mission, your taped video at my freind Irene's office just to get information about me…..am doing this because I still want to remain civil with you and not to directly involve those playing in the background… otherwise, your team of "wise" women will be exposed if you don't leave me alone.

The IGP's office is aware of this though I still asked them to keep it calm….simply to avoid drama.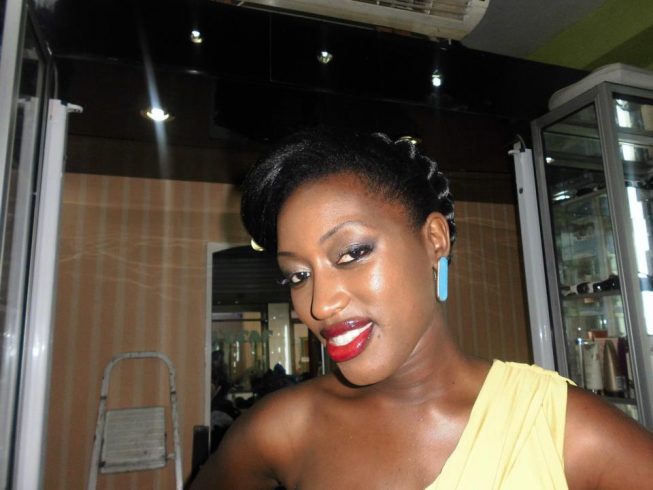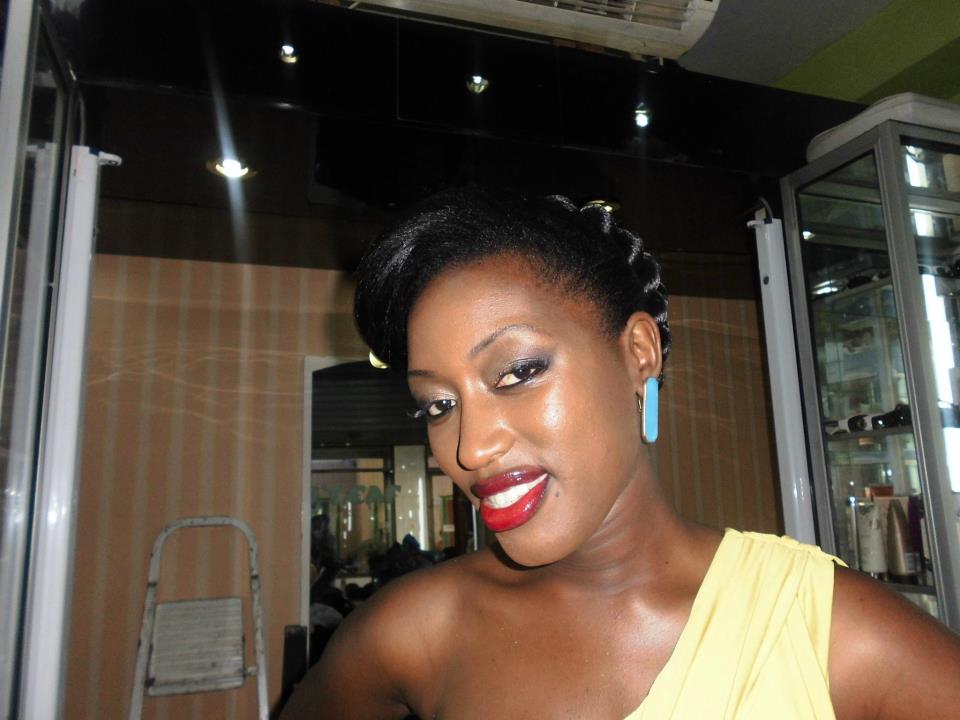 However on hearing this, Nameere who said she was busy doing chores at home and received several calls calling her online gave her response  as below.
Faridah Nakazibwe I DO NOT MEN, I DO A MAN! I have one man, he's the father of my children, he's the only one am after every day! I can kill for him and I have stood by him through thick and thick, he too has stood by me through thick and thin, our family, friends and work mates know that!
TODAY I was at home cooking for my family and our visitors, I wasn't even online when phone calls started bombarding me and my man! "Go online go online" was what every one said. Ah I was reluctant because I thought it's one of these bloggers writing some nonsense like they always do, which majority times I care less about. So I insisted to one of the callers "am busy kiki?" "Faridah Nakazibwe is saying you're after her man". Oh there goes the story my man and I have been dealing with for two years!
My man and I have been together for 5 years and we have 2 great children together. Farida you started to harass us close to two years ago when I had just had our son. I was still at Kampala Hospital after a ceasor birth, when you started to send me insults and threats of how I should leave your man alone. You had previously sent me messages saying "oh someone seems to have used a fake page to front you to malign me before my husband". Because am not often online and then I was heavily pregnant, I didn't take it as a big deal, I was even too pregnant tired to give it much thought. And even the number the fake page had fronted was a Warid code tagged to my MTN number i.e. a fake Warid number so I ignored it. But later when you sent insults and threats and you asserted "your husband says it's me", it started to get disturbing! I tried to explain to you in vain! My man personally called you on your phone, using his real number and challenged you to send us just one message coming from my number or facebook page or whatsapp number or a voice note coming from any of those platforms you failed to send one, all you claimed was "she uses fake pages". "If they're fake pages what makes you believe it is Justine behind them and how did you know they are fake pages?!" you insisted "she uses them and my man says it's her". The harassment continued and I took the matter on legally!
How many times did our Lawyers ask you to bring those messages and for your man to show up and show those messages right from the receiving phone and you never showed up and you claimed he's not available. I filed a complaint with Lukwago and Company Advocates in 2016, I filed another with Signum Advocates just last year when you relentlessly glued on me, asserting "your man says am sending him messages". This time when you refused to come to them, I came with a Lawyer to NTV and asked to speak to you personally but you simply screamed at me and called me all sorts of things, I still failed to get angry at you because I couldn't tell why you're so convinced by what you call "fake pages" to be me simply because your man says it's me. That day we had moved with our Company Admin Assistant, Miss Sharon who also got so confused at why you believe it's me. I decided to open a case with Kira road police and they called you on the next Monday to show up with the man you claim I send messages using fake pages, with his phone so that IT experts could figure this out once and for all, you said you would get back to us when he's back from abroad. Even at Police I was with my man! We didn't hear from you since then until now when you posted what you posted about me. I don't know your man, not by name or identity! I don't know your life or background, you started anchoring at WBS when I was in primary so I don't know any background of yours that you claim am telling your man about so as to tarnish your name! You claim am jealous of you but we are pursuing different dreams, so how could I be jealous of you?! Plus everyone who knows me and my man knows we are inseparable, we work together, we deal together, we are ever in each other's space. The man himself told you "whatever fake pages are doing to your marriage, Justine is not part of it". You insisted it's me. Now kindly answer the questions below:
1. If both you and your man know that these are fake pages why do you claim they're breaking your marriage to the point of you crying out to the public?! Why do you even give fake pages your time, of all things there's to do by couples why give time to fake pages?!
2. If this is an issue that you could be this serious about why do you dodge the lawyers and Police yet you are here tarnishing someone's name?!
3. Can you please produce any technical evidence that you have collected over the two years of harassing me, showing that your "fake pages" are mine?!
4. If you claim that your "fake pages" send my number as the number for your man to call on for more information, did you ever receive any of the messages you're saying from my number?! Or did you and your man ever call my numbers and you heard me saying any shit to him?!
5. Recently Ministers' phones and MPs' phones were hacked in using facebook fake pages or shit like that, as a journalist working for a Top TV you have no single idea that there's electronic fraud in the world?!
6. Did you ever open a harassment case against me, criminal or civil for the two years you have harassed me?! On the contrary you have dodged those I have opened!
FINALLY everyone has seen me speak my heart and mind to anybody using my own pages without fear or favour! Am not a fake page kinda person and they're not in my world! If your man or whoever is fronting me to play on your mind and you have failed to be smarter than them, well tell them I won't be the other fool! I will not let you or them or any body play with my name and the peace of my family.
We are following up this story to see where it all ends.